---
For more than 45 years Mirvac has been building homes in NSW, creating exceptional living experiences through the pursuit of quality and care in every little detail. This experience has created a legacy of working with customers to find the right design for their life and their lot, through our extensive Homes by Mirvac portfolio.
---
Building exclusively within Mirvac master planned communities, let's us craft not only the house of your dreams but the home that you deserve; a correctly orientated land lot, beautifully landscaped streets, parks and green space where children can play.
Our Mirvac master planned communities are places you'll be proud to call home. You can be certain of the "buildability" of every architect-designed house and land lot. As the owner, developer, designer and builder we are with you every step of the way, with our sales staff guiding you to help find the right home to suit your lifestyle needs.
Our team of talented architects, designers and planners work hand-in-hand with our builders, sales, marketing and customer relations teams to create a range of homes that are beautiful to look at and practical to live in.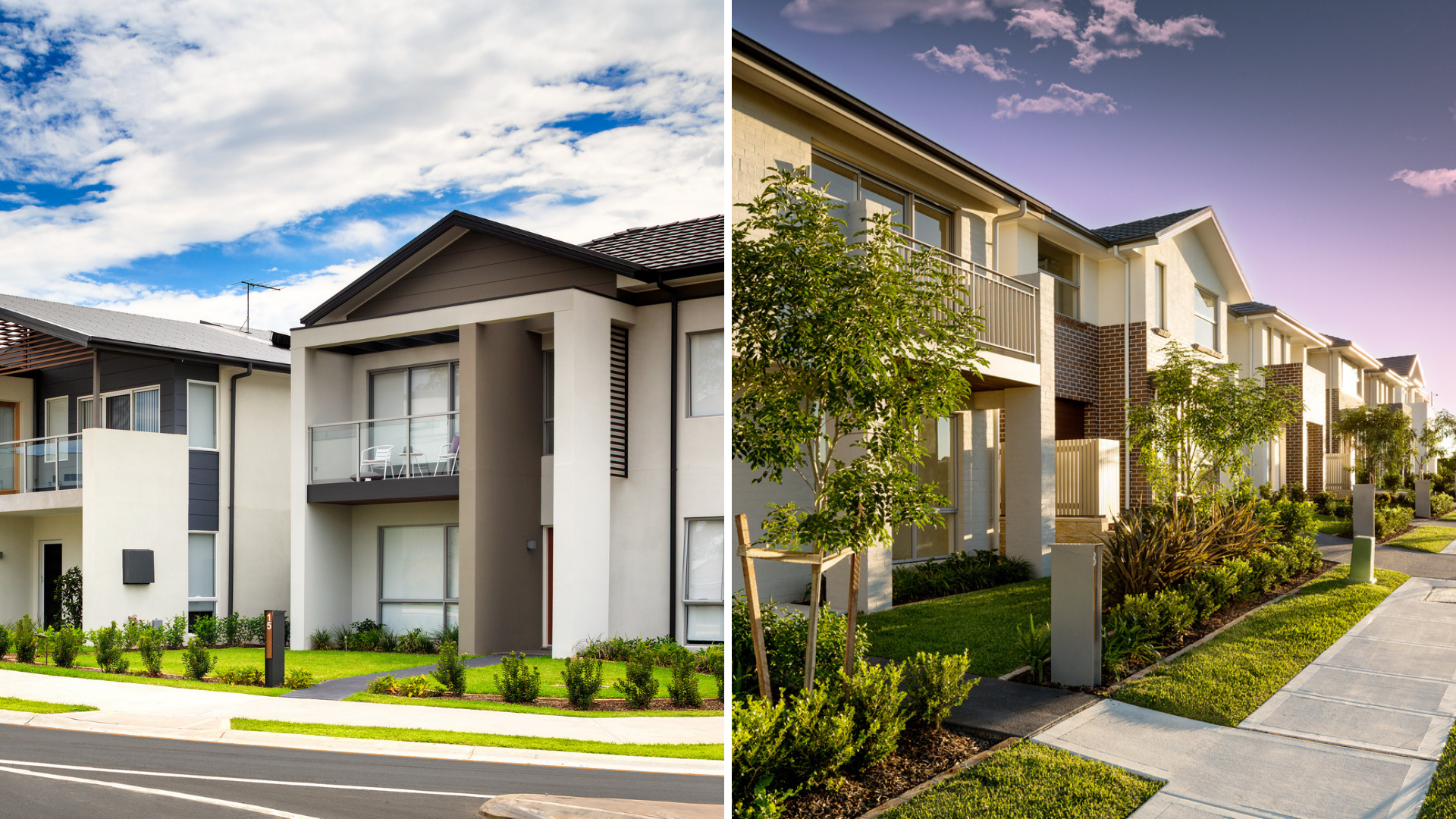 Design is at the heart of everything we do and what sets us apart from other builders. It's the reason why we have so many loyal customers, who know and appreciate the difference of living in a Mirvac-designed home.
Our design ethos is about putting people first whether it is our customers who live in a Mirvac home or the wider community. Choosing to build with Mirvac offers peace of mind and you can enjoy the journey of building your dream home.
---
Brighton Lakes
Our Brighton Lakes masterplanned community in Sydney's Moorebank was named Best Residential Development in Australia at the National UDIA Awards for Excellence for 2019.

Brighton Lakes was a complex project – building 306 architecturally designed homes on a portion of a golf course located on the Georges River foreshore, a new clubhouse and new 7 golf holes. It involved a high level of stakeholder engagement, environmental consideration and a project structure that benefitted – the golf club and its members, Liverpool Council and the broader community, and our Mirvac customers.

The masterplan for Brighton Lakes incorporated the values that we believe are critical to good urban design – generous green space and facilities forming the heart of the community, green vistas from every streetscape, innovative but liveable house design that maximises the use of land and aspect and a carefully selected choice of materials which improve performance yet maintain longevity and reduced ongoing maintenance. We set out to create a new community that promoted a healthy active lifestyle and affordable prestige living.

To achieve this the Brighton Lakes project team pushed the innovation agenda, rolling out a large-scale trial of the Velocity pre-fabricated building system. We also established three "living labs" to trial solar, batteries and smart technology.

Our Welcome Plus community program resulted in a well-settled community that is now self-sufficient and going strong.

Brighton Lakes is a Mirvac legacy we are proud to own.

Other awards Brighton Lakes has won include:
UDIA NSW 2018 Excellence in Sustainability and Environmental Technology
UDIA NSW 2018 Excellence in Greenfield Development
No.3 ranking in BRW's Most Innovation Companies List 2015 for the Velocity trial
The 2017 National Association of Women in Construction Award for Team Innovation.

My Ideal House
My Ideal House, in our masterplanned community CREST in the south-west Sydney suburb of Gledswood Hills, has won the Sustainable Architecture Award at the prestigious Australian Institute of Architects NSW Awards.

Born from a competition in partnership with Australian House & Garden magazine, to design the ideal home for the modern family, My Ideal Home was a collaborative effort between the competition winner Madeleine Blanchfield and Mirvac Design.

It's rare for a single home in a residential housing estate to be honoured with a prestigious architectural award and we are delighted that our determination to make sustainable architecture desirable and attainable has been recognised.

This award, added to the more than 600 that Mirvac has won over our more than 45-year history, is testament to the high priority we place on design as a force for good, reimagining urban life and creating homes of enduring quality.




---