MultiGeneration Series
A unique innovation, Mirvac has designed a stylish, clever MultiGeneration home that will grow with you.
From the first home owner to an expanding family, or separate homes for two families, the MultiGeneration Collection transforms to reflect your life's changes. Featuring three unique, clever designs that evolve behind the façade.
You'll never have to change address again.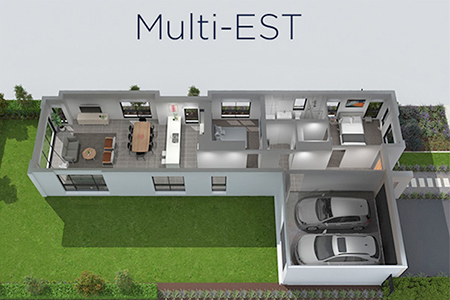 Contemporary and stylish the Multi-EST has been designed for first home buyers. With an aspirational street presence that will never change, the Multi-EST provides and affordable entry into the home market when you're ESTablishing yourself.
- Open plan living and dining area
- Galley-style designer kitchen for easy entertaining
- Walk-in robe to the main
- Internal home access from the double garage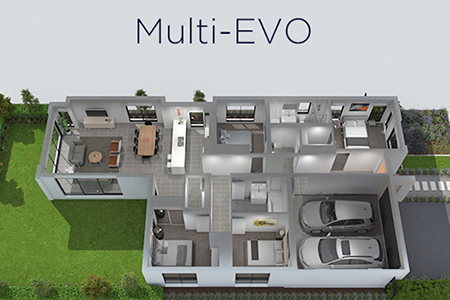 As life's demands change, and your family grows, you require more spaces for all family members. The Multi-EVO has been designed to provide additional bedrooms, bathrooms and enhanced entertaining features with the option to incorporate two, private outdoor living areas.
- Light and bright open plan living and dining
- Option for two outdoor alfresco entertaining areas
- Option to incorporate large stackable glass sliding doors to the alfresco areas
- Walk-in pantry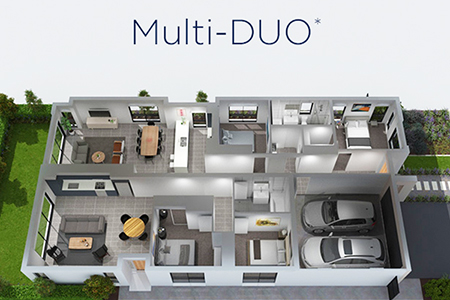 The Multi-DUO has been designed for multi-generational living. It follows your life stages to fulfill the lifestyle needs of multi-family and multi-living needs.
The Multi-DUO features two separate entries, more private areas for independent living such as a kitchen and dining spaces, making your ideal first home the ideal home for retirement, or the ideal home for grown children returning home.
*Subject to Council Approval.
All facades are artist impressions.